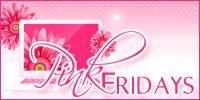 Today is Friday once again and here I am sharing my post about something pink that I own.
My son went to my office and when he looked up, somewhere at the wall, he saw my lines of masks. He wants to try one, so I let him. I let him used the pink one and look here:

He looks cute wearing it. We are just playing around, using my laptop's webcam to take our picture.